With so many variables contributing to an athlete's performance on a day to day basis, it's tough to know exactly why a player is performing so well or poorly at any given moment. Sleep, diet, injuries, soreness, and overall level of fitness all contribute to how an athlete feels on any given day.
One easy way to help make sense of all of these factors is the use of daily questionnaires. Creating a custom questionnaire for your athletes or clients can give you great feedback, and is proven to give you both quantitative and qualitative data that can be used to determine an athlete's current physical status.
While intuition might cause one to question the ability of athletes to consistently fill out wellness questionnaires accurately, studies show that in fact the results are very accurate. A group of researchers followed a professional Australian football team for an entire season, requiring them to regularly fill out wellness questionnaires. The athletes showed a steady increase in overall wellness during a week of training leading up to competition, and a steep decline thereafter. Altering training loads during workouts had a direct correlation to athletes' reported levels of energy, soreness, and overall wellness. You can read more here.
John Abreu, a strength and conditioning coach at Canadian Sport Institute Pacific has used this method with his athletes at a collegiate level, among others, with great results.
Ultimately, with a little work on the back end, good communication with our sport coaches, and a good relationship with our athletes, we were able to create a working system which both allowed us to monitor our athletes, and was open to further opportunities for improvement.
One of the added incentives of using this form of data collection which Abreu points out, it's free! Without expensive watches to track and collect data, or heart rate monitors which can cost an arm and a leg, you can get a significant amount of valuable data just by communicating via questionnaires with your players.
A number of our clients here at Trayn started to or had been using questionnaires with their athletes but had always been doing so with pen and paper, which was tedious to track, and not very environmentally friendly. We came up with a solution for these clients, making it possible for them, and you to create custom questionnaires quickly and effortlessly with Trayn.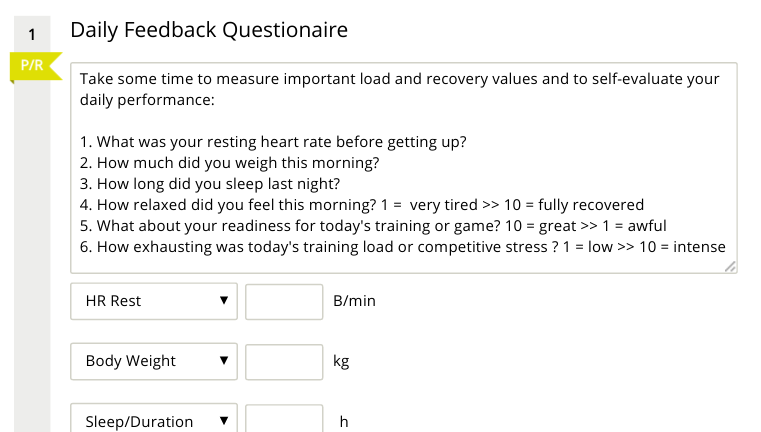 Results are all stored automatically and you can compare an individual's results over time against him or herself, or against the team average. Our goal at Trayn is to make your life easier, finding solutions for the problems you face daily, and keeping everything all in one place. As always, sign up for a Free Trial and see for yourself what Trayn can do for you.
Stay tuned for next week's blog post where we will represent our first guest blogger Cal Dietz - an expert for strength and conditioning training, active at the University of Minnesota. He will write about the benefits of base aerobic training in team sports and you can expect more from him.